GEL – State of Education
Nov 4, 2022 @ 8:00 am

-

10:00 am
Innovation and Growth in Education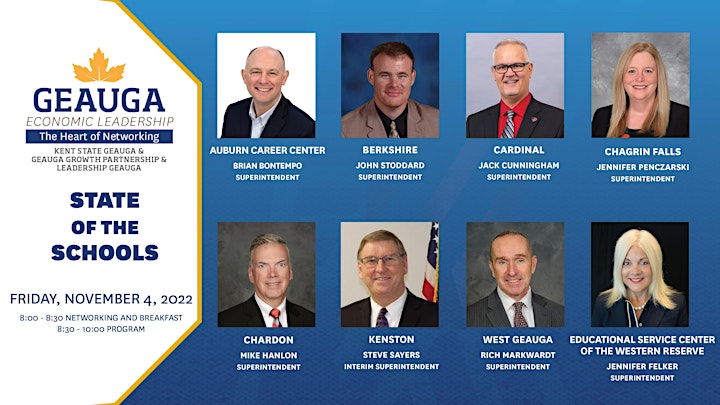 Innovation and Growth in Education
Superintendents will share how their schools are setting students up for success; how they have adapted to meet the unique needs of their students'. This discussion will focus on growth, innovation, accomplishments and overcoming challenges specific to their school districts.
Facilitated by Superintendent Jennifer Felker of the Educational Service Center of the Western Reserve.
8:00 am Breakfast & Networking
8:30 am – 10:00 am Program
Kent State University – Geauga14111 Claridon Troy Road in Burton
Geauga Economic Leadership (G.E.L.) Breakfasts are co-sponsored by Geauga Growth Partnership and Kent State University at Geauga. They are held the first Friday of each month. The events are an opportunity to bring business and industry leaders together with our community to network, learn, and collaborate.