LIONS LEAD THE WAY: Click the photo above to watch our totally student-produced promotional video for Tuffy's Toy Drive, NDCL's effort with the Cleveland Clinic to brighten Christmas for hospitalized children.
NDCL and the Cleveland Clinic are teaming up for Tuffy's Toy Drive to bring joy and excitement to children whose illnesses force them to stay in the hospital for the Christmas season.
Thanks to the generous support of parents, faculty, and friends, we have already raised $2,800 toward our $7,000 goal. Your gift can help push us over the top. Most importantly, you'll help the Lions bring smiles to the faces of sick children and their families.
Donating is easy. Just visit the Tuffy's Toy Drive website to purchase a toy or make a monetary donation of your choice. Scroll down on the toy drive's webpage to see the listing of giving opportunities as well as the list of those who have already contributed.
Sophomores Joshua Grambo, Lucy Joyce, Maria Kimball, Tuscani Orris, Anthony Roach, Ryan Shemitz, and Anthony Tibaldi lead the charge with Tuffy's Toy Drive along with freshmen Adriana de Caris, Christiana Paul, and Kelly Shaughnessy.
Biomedical students hone diagnostic skills with visiting professionals during symposium
Senior Brennan Vogley discusses his patient's diagnosis with science teacher Mr. Nathan Smith and Sister Pat Garrahan of the national leadership team of the Sisters of Notre Dame during Wednesday's Biomedical Symposium. Brennan and his classmates in the STEM Biomedical Studies course presented their differential diagnoses and fielded probing questions of actual case studies from several visiting medical and science professionals.
Mr. Smith teaches the biomedical course with professional assistance from Dr. Janet Poponick '77, a retired MetroHealth physician who serves on the Notre Dame Schools Board of Directors.
Polar Express helps freshmen prepare for exams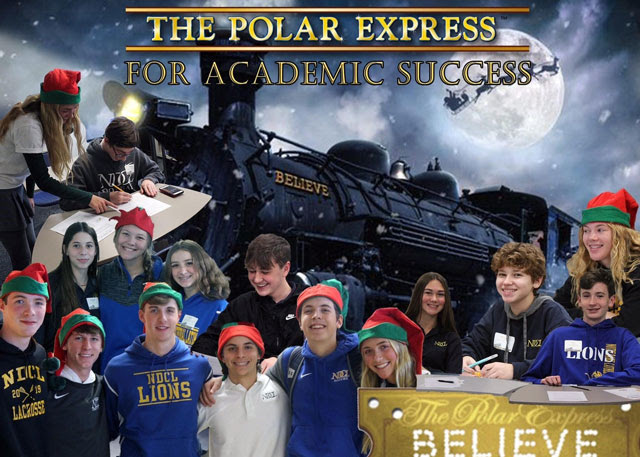 Our teachers worked with a group of seniors who are Certified Peer Educators to help our freshmen prepare for their first experience with high-school semester exams with a creative, engaging after-school program on Monday.
Using the theme of a train ride, NDCL's Polar Express to Academic Success featured a series of sessions or "whistle stops," including:
Time management
Calendar planning
Test-prep strategies
Test-taking skills
"Learning these skills is the whole point of the program," explained Assistant Principal Mrs. Denice Teeples. "We know that it is common for freshmen to be nervous for their first high-school exams. The Polar Express addresses this concern by getting the students' attention and creating positive, shared momentum for studying."
---
NDCL to launch boys club volleyball this spring
Starting in the spring of 2022, NDCL's Athletic Department will sponsor a boys volleyball club team.
For More Information:
Pete DeMichele, Assistant Director of Admissions
Boys Soccer Assistant Coach, Girls Basketball Assistant Coach, Track and Field Assistant Coach
Notre Dame-Cathedral Latin School | 13000 Auburn Road | Chardon Ohio 44024
440-286-6226 ext. 1086 | www.ndcl.org
---