---
Seniors will win $10,000 from Cardinal Credit Union in Mad City Money competition on March 28

Our friends from Cardinal Credit Union will award $10,000 in college scholarships to top-performing  seniors in the Mad City Money competition at NDCL on March 28 at 1:00 PM.
Mad City Money is a simulated game of life designed to give young people a taste of the real world, complete with occupation, salary, spouse, student loan debt, credit card debt, and medical insurance payments.
During the game, participant will take on the role of adults in the futuristic Mad City. They're given jobs, income, a family, and debt. The challenge? Visit merchants to select housing, transportation, food, household necessities, clothing, day care, and other wants and needs while building and staying within a budget.
No special skills or training are necessary, but it helps to have a general understanding of basic budgeting. Participants will also be responsible for managing a simple checkbook register.
Students will compete in teams of three. A maximum of 30 teams may register for the competition.
To register a team, students should visit the Mad City Money website. Registration, which requires the email address and phone number of each team member, closes on March 22.
---
Bryce Wheatley advances to OHSAA wrestling tournament in Columbus
After an impressive performance in last weekend's district match, junior Bryce Wheatley qualified for the Ohio High School Athletic Association's Division II State Tournament at The Ohio State University's Jerome Schottenstein Center on March 10-12.
Bryce, who wrestles in the 190-pound weight class, is the only area wrestler who will be making a return trip to the Division II state tournament. He was state-placer last year as sophomore. Earlier this season he celebrated his 100th career win.
Intervention specialist Mr. Michael Fleeman coaches the Lion wrestling team with assistance from Mr. Nik Wheatley.
---
Sofia Thornill to be honored as Eagle Scout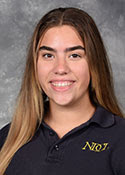 Senior Sofia Thornhill will be advanced to the rank of Eagle Scout by the Boys Scouts of America during a court of honor ceremony this weekend.
Sofia joins an extraordinary group of men and women who have earned the Eagle Scout rank, including acclaimed film director Steven Spielberg, retired Supreme Court Justice Stephen Breyer, and Walmart founder Sam Walton. Only about 6% of all Boy Scouts become Eagle Scouts.
Girls have been accepted into the Boys Scouts since 2019. In 2021, the first 1,000 girls became Eagle Scouts.
Sofia's Eagle Scout project involved the construction of collapsible instrument stands for American Zagreb Junior Tamburitza (AZJT). These stands will be easier for the group to transport and store. Sofia and her team of volunteers devoted more than 75 hours to the project.
---
Mane Event seeks sponsors, live auction donations
---
Mark your calendar for Notre Dame Schools' Lion's Mane Event on Saturday, May 13, at one of Cleveland's unique and prestigious venues: the Cleveland Museum of Art.
Although tickets won't go on sale until April 1, there are two opportunities to help today:
Corporate sponsors: Own or manage a business?  Partner with us as a Diamond ($4,000) or Platinum ($2,000) Sponsor. Sponsorships include event tickets and corporate recognition.
Live auction items: Might you be able to help us out by donating one or more items from our wish list?
Beach vacation home rental
Airline miles for two to Europe
VIP concert tickets/experience
Broadway show and accommodations in New York City
Golf: Firestone, Canterbury, Kirtland, etc.
We are grateful for the generous support of Preston Superstore, this year's title sponsor.
Corporate sponsors should email Assistant Vice President for Advancement Mr. Keven Krajnak `98 or call him at 440.279.1068.  To donate auction items, please email Vice President of Advancement Mrs. Josephine Ambrose or call her at 440.279.1080
---