NDCL is only high school in Ohio to offer collegiate program – 39 seniors complete peer educator certification
---
---
Thirty-nine NDCL seniors recently completed their certification as peer educators by the National Association of Student Affairs Administrators in Higher Education (NASPA).
NASPA's college-level Certified Peer Educator (CPE) Program provides students with foundational-level skills to empower them as stronger leaders, better role models, more effective advocates, and more productive team members.
Ordinarily, NASPA only works with college students, but two years ago NDCL health aide and wellness coordinator Mr. Pete DeMichele persuaded the organization to include our students in the nationally recognized program. NDCL remains the only high school in Ohio to offer CPE certification.
Members of our junior class will have the opportunity to complete CPE training with a representative of NASPA's national office in Colorado on April 29-30.
To date, 241 NDCL students have earned CPE certification, which is recognized by hundreds of colleges and universities nationwide.
Congratulations to our newly commissioned certified peer educators:
Hayden Bell
Kathryn Bumpus
John Coulson
Noah Coyne
Casey Curran
Elizabeth Dailey
Zachary DeRespiris
Rachel DeWerth
Daniel Duffy
Elaina Dynes
Evan Fonash
Nicholas Guarniere
Faye HoeyNicholas Johnson
Audrey Joyce
Erica Leinweber
Grace Liberatore
Ian Mascia
Kelly McGraw
Mary McGuigan
Veronica Mekhel
Mario Misiti
Deirdre O'Connell
Madison Rogers
Benjamin Roman
Joshua SeibertAlexander Semerano
Jacob Severino
Asha Singh
David Skovira
Devon Skufca
Evan Smith
Patrick Stergar
Melissa    Sterkel
Cody Svoboda
Kylan Teeples
Sebastian Tovar
Adam Zakrajsek
Katelyn Zitnik
---
University Hospitals Foundation salutes Allie Beth Currier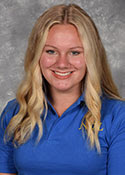 The University Hospitals Foundation recently recognized NDCL junior Allie Beth Currier for raising $1,750 to support Rainbow Babies and Children's Hospital.
In response to the COVID-19 pandemic, last spring Allie Beth launched MasquerAid, a small business that creates and sells bright, cheerful face masks. She was inspired to support UH Rainbow by a family friend who underwent cancer treatment at the renowned pediatric hospital.
---
For additional information contact:
Quinn Malone, Assistant Director of Admissions
Notre Dame-Cathedral Latin School | 13000 Auburn Road | Chardon Ohio 44024
440-279-1086 | 440-286-6226 | www.ndcl.org
---